For Immediate Release: August 21, 2018
Social enterprise empowers high school students to create salsa and sauce products infused with fresh, local produce while giving back to community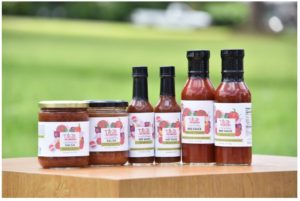 Immokalee, FL – August 21, 2018 – Taste of Immokalee, a social enterprise created and operated by high school students, announces a new line of salsas and sauces inspired by the rich agriculture of Immokalee, Florida. In addition to the newly unveiled Pineapple Mango Salsa and Mandarin Tangerine BBQ sauce, the existing product line has also been enhanced with farm-fresh ingredients, including locally-sourced tomatoes by Lipman Produce, North America's biggest field tomato grower. Taste of Immokalee allocates its profits toward student education and community relief programs.
Founded in 2014 by a group of high school students with a desire to alleviate the extreme poverty in their community, Taste of Immokalee has become a model of "business for good" while equipping high school students with business and leadership skills. One of the unique aspects of the program is that students gain real-world experience and learn both the rewards and challenges of entrepreneurship.
"Our students have been involved with every aspect of our new product launch, including product testing, package design, manufacturing, accounting, sales and marketing," said Marie Capita, Executive Director. "They learn to be innovative thinkers, diligent workers and astute problem solvers along the way."
Created in partnership with professional mentors, chefs and other food industry specialists, Taste of Immokalee products meet the highest quality standards. Most products align with common health concerns, meeting nutritional criteria such as low calorie, low or no fat, and cholesterol free. Taste of Immokalee products can be purchased locally in select Publix and Neighborhood Organics stores, or purchased online through the Taste of Immokalee website.
About Taste of Immokalee
Taste of Immokalee is a benefit corporation founded in 2014 by Immokalee-based One by One Leadership Foundation. What began as a seed of an idea by a group of local high school students has grown into a social enterprise that creates and sells specialty food products representing the unique blend of Immokalee's culture and rich agriculture. Taste of Immokalee is committed to providing students with hands-on experience in all aspects of business, with a focus on giving back. Profits are returned to the community of Immokalee to benefit youth programs and alleviate hunger and poverty. Learn more at www.TasteofImmokalee.com.