Local investment firm Wasmer, Schroeder & Company teams with Taste of Immokalee students to share holiday cheer nationwide, while giving back to Immokalee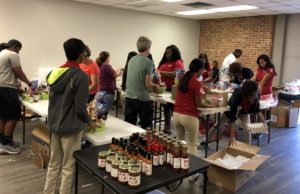 Immokalee, FL, December 8, 2018 – At first sight, it may seem as though two local companies have little in common: investment firm Wasmer, Schroeder & Company which employees finance-savvy professionals across the nation, and Taste of Immokalee, which employees high school students rising out of the poverty of Immokalee.
But the focus of today's corporate giving event looks far beyond those first impressions to see two benefit corporations working together, honoring their commitment to social responsibility and giving back to our local community.
As part of their mission to make a positive impact in the communities they serve, Wasmer, Schroeder & Company has chosen to give Taste of Immokalee holiday gift bundles as corporate gifts to their customers around the country. Wasmer, Schroeder employees joined Taste of Immokalee students in Immokalee on Saturday, December 8, 2018, to work side-by-side creating and packaging the gift bundles.
All profits from the sale of Taste of Immokalee products are returned to aid the community of Immokalee.  Learn more about this student entrepreneurship program at at https://www.tasteofimmokalee.com/about/.
Taste of Immoakalee sends their sincere thanks to Wasmer, Schroeder & Company for their support and the opportunity to share our products in such a special way.  Thank you for believing in us!