When Eric Garcia joined Taste of Immokalee as a sophomore in high school, his entire world changed. The son of immigrant farm workers from Guatemala, he grew up in Immokalee surrounded by poverty yet filled with a desire to do something about it. When he learned of Taste of Immokalee's mission to create products sourced from Immokalee for the sole purpose of giving back to the community, he knew this was his chance.
Initially, Eric had dreams of being an engineer but he admits that those dreams were a product of other people's expectations rather than his own. What Eric discovered with Taste of Immokalee was a business world full of possibilities, and a new vision for what his future could be.
The Taste of Immokalee program introduced Eric to all aspects of business including product development, accounting and marketing. But there was one aspect of business that still made Eric feel uneasy and that was public speaking.
Shy by nature, Eric wasn't too keen about participating in promotional events where he would need to be assertive to capture the attention of passersby. Through encouragement by his mentors and peers, he began breaking out of his shell.
It wasn't long before he found himself representing the company at the Stone Crab Festival in Naples, easily conversing with visitors, including a woman who was vacationing in the area. As it turned out, she was on staff at Cornell University and was quite impressed with the young man who was sharing the Taste of Immokalee story with her. She not only encouraged Eric to apply but also offered her letter of recommendation. Eric was among the small fraction of applicants admitted into the elite University and is pursuing his degree at the Cornell College of Hotel Administration.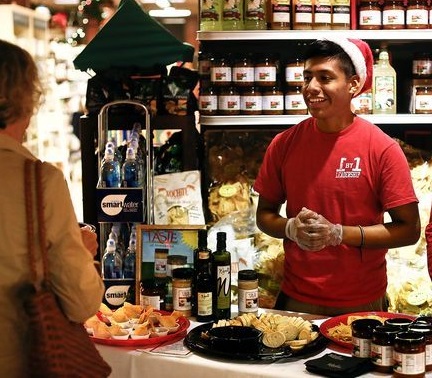 "Growing up, I sure never imagined myself at an Ivy League school. I never thought I was good enough or could compete at such a high level. That began to change as my confidence grew my junior year and I began realizing that the experiences I gained with Taste of Immokalee actually gave me a competitive edge. I learned that good grades aren't enough to set you apart; few teenagers get the opportunity to run a business and create new products."
Eric is quick to point out that his success is not a one-off, but rather an example of the possibilities for anyone willing to work hard and follow their dream. From his college campus in Ithaca, NY, he followed the excitement of Immokalee High School's first robotics team, which remarkably advanced to the world competition where students much like Eric found themselves competing against high schoolers from around the globe.
"Without the teachers and the students who are willing to put in the long hours of hard work after school, it couldn't have happened. From all these experiences, I hope that other students see that if they're willing to work hard, incredible things can happen."
While the Taste of Immokalee experience has benefited Eric's personal goals, the impact that the company makes on the community is equally important to him.
"No matter what my future holds, one thing remains certain and that is Immokalee will always be a part of who I am. I will always be committed to giving back to Immokalee and helping to make the community a better place for those who live and work there."