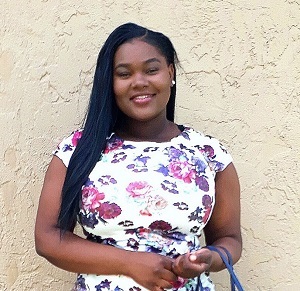 When Yvelande Astreide joined Taste of Immokalee just before her senior year of high school, she was the quiet girl in the corner who avoided conversation.
"I didn't like to talk with people. Networking was so uncomfortable and awkward for me that I didn't even want to try."
But the Taste of Immokalee directors didn't make it easy for her. They kept encouraging Yvelande and providing her with training and opportunities to step out of her comfort zone. Within months, Yvelanda grew into a confident, passionate spokesperson for the company, sharing her enthusiasm and experience during speaking events throughout the county.
"Taste of Immokalee was an amazing experience for me. When I came into the program, I didn't know what I wanted to do with my life, but the exposure to business opened up new doors and possibilities. I grew to love interacting with people so much that I have chosen a career in marketing."
"The program also helped me in high school. Before I started, I didn't even know it was possible to take college courses while in high school. But through the program I learned that Immokalee High School offered dual enrollment college courses in business and I was able to take several courses my senior year. This helped me get my GPA up and get my first semester of college completed while I was still in high school."
Yvelande is currently working toward her business degree. She is also excited to be hired as an employee of Taste of Immokalee, with the opportunity to contribute to a company that has done so much for her and others.
"My family is among the hard working farm workers in Immokalee and we know how hard that life is. One of the best things about Taste of Immokalee is that they want to help families like mine and others. The product sales help the people in Immokalee, which makes me feel extra good about the work we are doing, and makes my parents extra proud of me too."
For incoming students who are new to Taste of Immokalee, Yvelande offers this advice:
"Come in with an openness to try new things. You may not be comfortable at first, but try it anyway. Like me, you may surprise yourself and discover something that you really love and are good at. Enjoy the experience and work hard. This experience will make a difference in your future."