One of the unique things that sets Taste of Immokalee's student entrepreneurship program apart is that we allow students to apply the knowledge and technical concepts learned in school to real-world business experiences.
Wilvens Astreide is a prime example of the Taste of Immokalee difference.
Wilvens joined the Taste of Immokalee group when he was a senior at Immokalee High School. He had always been interested in digital design and marketing, and he took all the high school courses he could to deepen his knowledge. But the learning stopped in the classroom without the ability to build his skills through hands-on experience.
During the summer, Wilvens participated in Taste of Immokalee's Summer Internship Program. He had the opportunity to work with our business mentors who are very knowledgeable in their field.  Throughout the program he worked one-on-one with the consultants on the design of the new Taste of Immokalee product labels.
Executive Director Marie Capita summarizes this experience: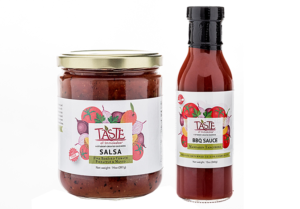 "Wilvens learned that there was far more to this process than simply drawing a picture. He learned of the importance of eye-catching design to help our products stand out, and the use of words that described our products in ways that mattered to shoppers. He also learned to use design software to bring it all to life. The end result is our fresh, new labels that we are all very proud of.
When you pick up our products, I want you to think of Wilvens." -Marie Capita, Executive Director, Taste of Immokalee
And what does Wilvens think? Well, he can hardly contain his excitement – and at just 18 years old, it's easy to see why:
"I am so excited that my labels are on the shelves at Publix! I'm going to tell all my family, stand in the pulpit on Sunday and tell my church; I'm going to tell everybody!"
Wilvens has gained a great sense of pride and accomplishment through his work with Taste of Immokalee. Ms. Capita has seen Wilvens' focus and ambition skyrocket during his involvement with the program and she looks forward to seeing the continued contributions this young entrepreneur will make.