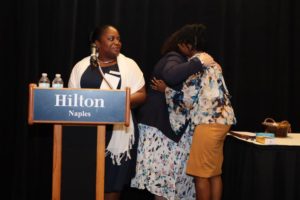 Taste of Immokalee was founded by a group of teens in Immokalee for the purpose of giving back to the community of Immokalee. Every year, the students involved with Taste of Immokalee hold true to that purpose and choose a problem in the community to solve.
For example, In 2018, we saw the devastation caused in our community by Hurricane Irma and chose to support relief efforts through the Benison Center. Our donation of $10,000 made an impact on providing the transportation of food, water, and supplies to our residents.
In 2019, our students selected our local Legal Aid office, a service of Collier County that provides free legal assistance to families who cannot afford an attorney. They provide access to justice for many in our community, addressing legal problems such as domestic violence, children with special needs, housing and work-related issues. Although a vital organization, Legal Aid lost much of its funding earlier in the year and our students rallied, choosing Legal Aid as this years' beneficiary.
Throughout the year, Taste of Immokalee students used their real-world business experience and problem-solving ability to create promotions and fundraising events, including our 2019 Super Bowl Fundraiser. During this event, two churches in Naples, Naples United Church of Christ and First United Methodist Church, graciously welcomed our students on the morning of Super Bowl Sunday and allowed us to present our cause and mission to their congregations.
After a year of similar events, Taste of Immokalee was extremely proud to present a check in the amount of $2,500 to Legal Aid during their 11th Annual Barrister's Bash on April 25, 2019. This donation touched the hearts of many, including our own students who have first-hand experience of the life-changing works of Legal Aid.
We are grateful for our supporters and customers who enable us to give back to our community and be a light where it is needed most.