You may know our company, but do you know the students behind the business? Get to know our student-interns and their favorite Taste of Immokalee products.
---
As you all may know, Taste of Immokalee is known as a social enterprise whose mission is to give back to the community of Immokalee. However, did you know that Taste of Immokalee is also student-created and student-run? Since 2014, young leaders have been the backbone of this company, contributing to the fight to end the cycle of poverty. 
While you may know our famously crafted products, you may not know the students behind them. We would like to introduce you to this year's student intern and inform you about their favorite Taste of Immokalee product. 
Julissa Lindor, Maderine Tangerine BBQ Sauce 
"I have a sweet tooth, and it suits me well when I crave sweets. I have literally dipped my vegetables and my plantain chips into this sauce, and Hands down, this is my favorite sauce ever!" 
Dieunica Dorilus, Fire Roasted Tomato, Pineapple & Mango Salsa
"Because peppers are the main ingredient in the Fire Roasted Tomato, Pineapple, and Mango Salsa, it is my favorite. This salsa has the ideal balance of sweet and spice. The sweetness overcomes the spiciness. Just one bite of this salsa sends my taste buds to another dimension!"
Shelcy Andre, Serrano hot sauce 
"This sauce reminds me of Jalapeno peppers, which is why I like it the most. I am a fan of a little spice in my food, which is why this sauce will suit anyone with awesome taste buds like mine."
Sattekye Ria, Habanero Hot Sauce 
 "This sauce beats the other competitors because of the sweet and spicy profile of the sauce…Which is why I like it because the ingredients are easy to read and taste greatly blended."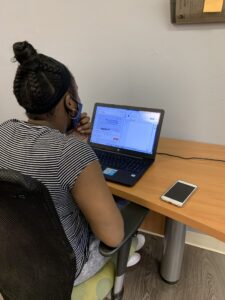 Jessica Fabius, Chipotle BBQ Sauce
"I am not a fan of BBQ sauces … But my reason for liking this particular sauce is because of the Chipotle profile that was added into this sauce in general. I actually really like Chipotle in my subs and salads, and it is perfect with my favorite dishes!" 
Stanley Bazelais, Chipotle BBQ sauce 
"My favorite sauce is the barbecue sauce, the chipotle one. My reason is that it's not cold and it's not too spicy. It is just a perfect mixture to try out !"  
Dieulerne Deuces, Serrano Hot Sauce
"My favorite sauce is the Serrano hot sauce because it has a peppery flavor and it is different from other traditional sauces… Like to have different flavors in my sauce because I am not a typical traditional person, and that's also another reason why I like the sauce."
Jai Boney, traditional salsa
"My favorite salsa is actually the regular one. I don't really like to reach out and try new things. I'm more of a traditional type of person… traditional one always tastes so good with my chips". 
Jeremiah Paul, Habanero Hot Sauce
"The Habanero Hot sauce has the best of both worlds; it starts with a really peppery taste but balances it off that end with a sweet and fruity taste. This hot sauce is perfect for people like me, who like spicy and sweet flavors."
Chivens Pierre, Chipotle BBQ Sauce 
"I like the Chipotle BBQ Sauce. It made me decide not to be so picky and has convinced me to be willing to try this sauce with different foods! which is a surprise to me".
---
If you'd like to purchase the products mentioned above, check out tasteofimmokalee.com. Currently, until the end of July, our promotional summer bundle, the "flavorsome bundle," is available to purchase online.
The new bundle of any season is full of flavor, hence why the bundle is called the "Flavoursome bundle"! This bundle includes our Pineapple & Mango Salsa, our Chipotle BBQ sauce, and our Mandarin Tangerine BBQ sauce, all of our student's favorites mentioned above. 
If you would like to hear more from our students and Taste of Immokalee, follow us on social media @tasteofimmokalee. Your contribution and support will help us aid the fight to end the cycle of poverty within our community of Immokalee!